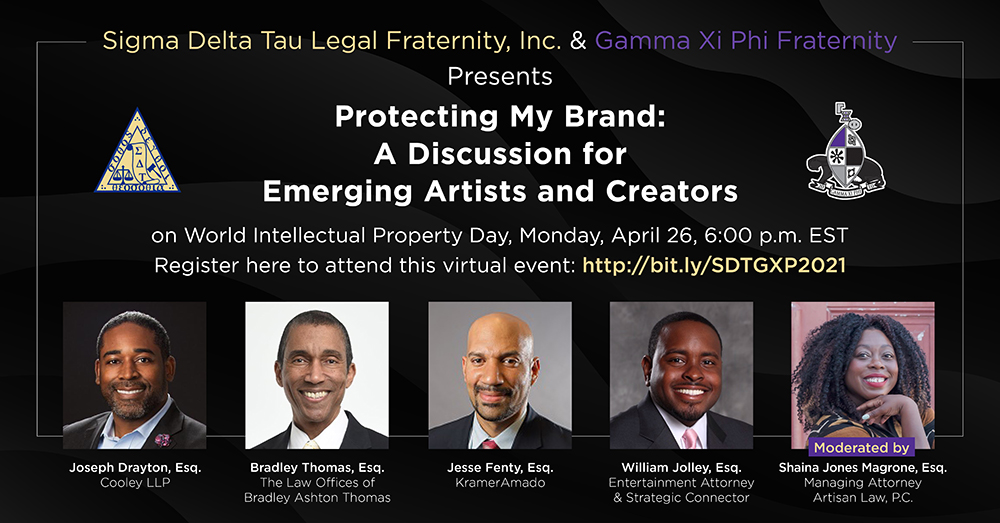 Sigma Delta Tau Legal Fraternity, Inc., and Gamma Xi Phi, the fraternity for artists, are pleased to present
Protecting My Brand: A Discussion for Emerging Artists and Creators
. Gamma Xi Phi member Shaina Jones Magrone, Managing Attorney, Artisan Law, P.C., will moderate a helpful discussion that will benefit artists and all those working in artistic professions who are interested in how they may best protect and preserve their intellectual property.
The event will be held via Zoom on World Intellectual Property Day: Monday, April 26, 2021, at 6:00pm EST. Please register here:
http://bit.ly/SDTGXP2021
Panelists will include Sigma Delta Tau members Joseph Drayon, Esq., of Cooley LLP; Bradley Thomas, Esq., of the Law Offices of Bradley Ashton Thomas; Jesse Fenty, Esq., of KramerAmado; and William Jolley, Esq., an Entertainment Attorney and Strategic Connector.
This event is the first collaboration between Sigma Delta Tau, the oldest continuously existing African-American legal fraternity in the United States, and Gamma Xi Phi, the nation's leading fraternal organization for artists of color and their anti-racist allies.